QR Codes for Hotels and Their Many Benefits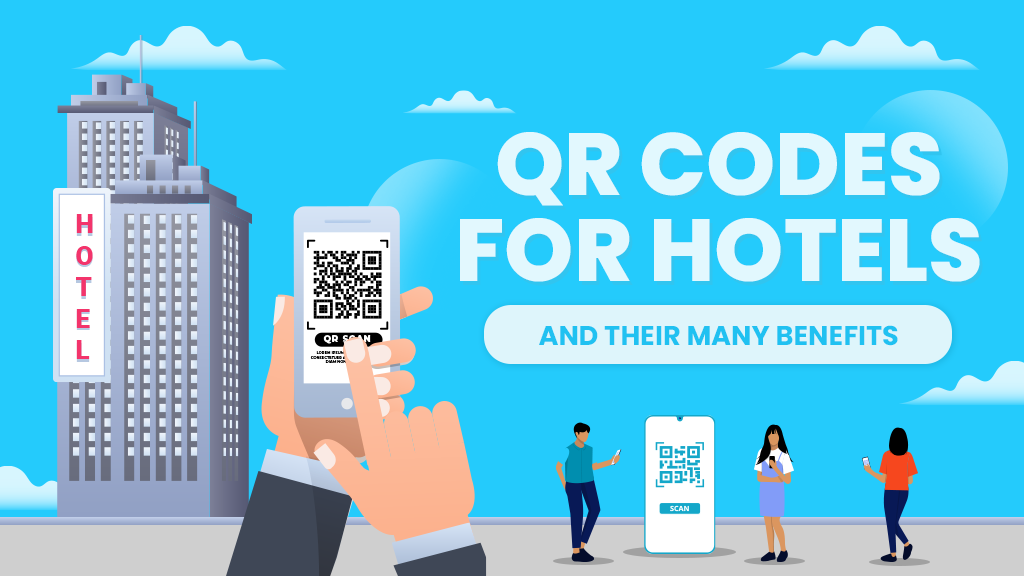 World events and technology play a vital role in the hospitality industry. For instance, Quick Response or QR Codes for Hotels are one way to improve the guest experience and staff efficiency! However, these codes have useful applications for various aspects of the customer journey, especially during booking.
In a 2021 survey, 45% of U.S. shoppers used marketing-related QR Codes. Consumers have taken to shopping on the Internet, but also to make reservations as well. The contactless, paperless nature of Quick Response Codes played a significant role in its popularity.
Hoteliers can attract more guests by catering to consumer demands and Hospitality Trends like advertising on Social Media. Also, hotels must tailor their Digital Marketing strategies to the needs of their customers. As a result, your hotel business can increase its revenue.
In general, QR Codes can accomplish a variety of actions without the need for contact. With virtual QR Codes, a hotel business can continue its routine process more efficiently and conveniently, thus improving revenue.
QR Codes for Hotels: How They Help
In general, virtual QR Codes have various purposes, including but not limited to:
Be an alternative to links;
Sign up for giveaway contests;
Redirect to feedback forms;
Pay for products or services; and
Allow consumers to collect coupons.
With QR Codes having such functionality, the number of people scanning them is projected to steadily increase year by year.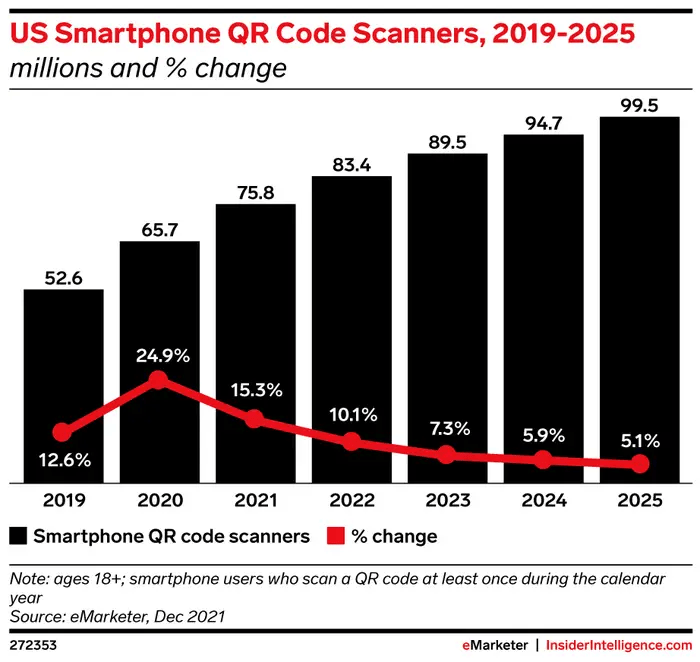 Source: Business Insider.
Retail stores and restaurants may rely on QR Codes, as do hospitality establishments. Hotel business owners can use them for advertising or marketing.
But also, hoteliers can take advantage of them to simplify the check-in process.
Hotels can use QR Codes to direct potential guests to their website to book a stay. You can add these codes to traditional print media like posters and billboards. As long as a potential customer has a device that can scan it, you can pique people's interest.
How QR Codes Enhance Customer Journeys in Online Hotel Bookings
Quick Response Codes can provide a variety of benefits. Potential guests can scan these codes to access menus, record feedback, and even get booking details! Overall, QR Codes have much to offer your hotel business.
Here's how they can help your establishment:
Improves Overall Customer Satisfaction
Customer satisfaction is the true aim of any hospitality business. To provide the best possible customer service, hotel owners must ensure that every part of a guest's stay is as frictionless as possible. Fortunately, Quick Response Codes can be beneficial to guests.
QR Codes for Hotels can enhance your guests' experience through various methods. With these codes, a hotel can allow guests to:
Access dinner menus.
Check on the spa services, if applicable.
Get more information on the locale, including the area's history and tourist attractions.
Offer customer surveys to gain feedback.
Download booking details, as with the eaSYNC Premium Plan for Hotel Bookings.
Of course, a warm reception can make your guests feel valued. But, a seamless customer experience can incentivize them to book another stay soon.
Streamlines Hotel Operations
Improving your hotel isn't just about giving your guests a memorable experience. It's also about making your establishment and its staff more efficient too! After all, your staff is responsible for interacting with guests and providing excellent service.

Source: FinancesOnline.
Automation can take care of repetitive or routine tasks, reducing the chances of human error! As a result, your staff has time to do more essential jobs more efficiently. So as with your customers, you must add QR Codes at the appropriate touchpoints.
Of course, QR Codes can lead people to forms for feedback. However, you can also use the codes to send forms for recording customer information. As a result, staff won't need to manually record booking details or room service orders.
For instance, if a guest places an order via the QR Code-generated restaurant menu, your system can record it. Then, your database will have critical insights into their meal preferences.
Can Assist with Marketing Campaigns
Business owners can use Quick Response Codes in various aspects of hotel management, like getting information on guest bookings. Did you know that QR Codes can assist your Marketing Campaigns to increase bookings? As mentioned earlier, you can record guest preferences data on your system with QR Codes for Hotels.
The recorded data can help hoteliers make informed business decisions and build customer loyalty. Not only that, but you can get customer insights through data gained via QR Codes. So, hoteliers can learn a lot about the following:
Number of scans;
Customer demographics;
Guest or user preferences, etc.
Hotel owners won't be at a loss for how to personalize their marketing messages! You can even use the information to keep in touch with guests after staying at your establishment.
Fosters Customer Loyalty
By recording guests' data, you can strengthen customer loyalty, especially with guests who often stay at your hotel. In a 2020 survey, only 27% of respondents were "quite confident" in travel and hospitality companies delivering personalized experiences and messages to their customers.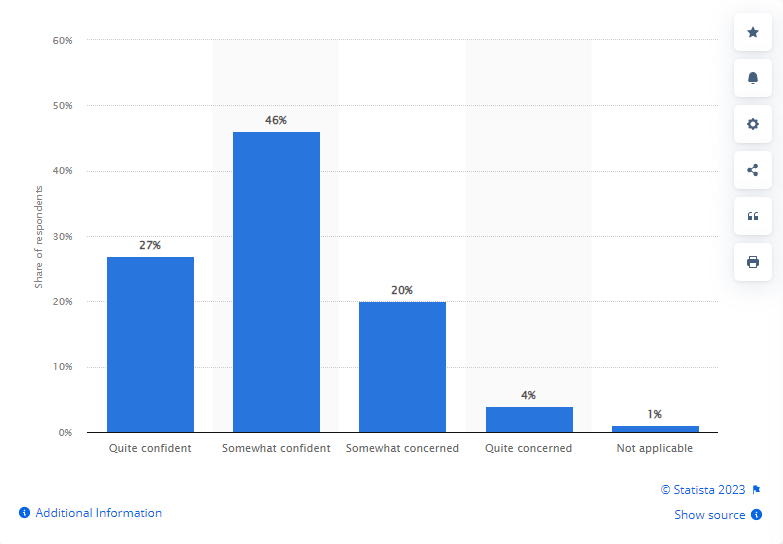 Source: Statista.
Thus, hoteliers should take the time to tailor their marketing messages and hotel experiences to guests. Again, information gained through forms in your QR Codes can assist with personalization, which boosts customer retention.
By keeping your regular customers' preferences in mind, you can serve them better or even create relevant loyalty or rewards programs. These can give customers reasons to return to book another stay at your establishment.
Here are some excellent methods for achieving better customer loyalty:
Rewards programs;
Feedback surveys;
Getting positive online surveys, etc.
Final Thoughts
Business owners must keep up with the evolving market and technologies. After all, customers these days dislike hiccups in their journey. Automation technology and tools can help streamline your routine processes.
For instance, if your hotel utilizes QR Codes, you can:
Attract new customers;
Serve current guests more efficiently; and
Influence guests to book another stay.
As they are a contactless and convenient alternative to links, QR Codes can be used in the hospitality industry to:
Facilitate the check-in process;
Gather feedback from customer surveys;
Access restaurant or service menus;
Get information on the locality; and
Get booking details.
In particular, the Hotel Booking Plugin from WordPress can provide your booking details upon booking a room reservation. Utilize the right booking system to give your guests the best possible experience!