Hotel Premium Plan for eaSYNC Bookings: A Guide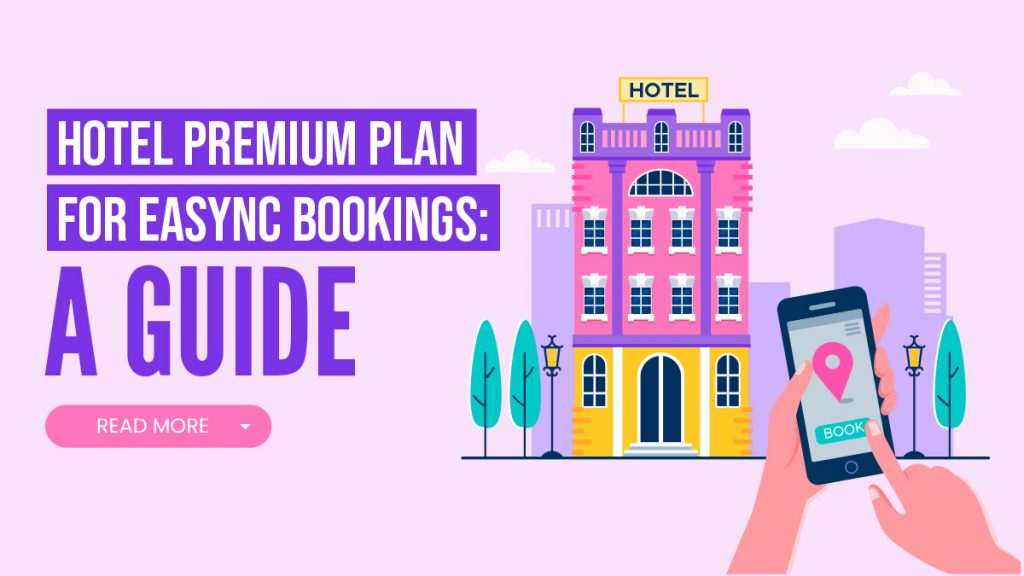 Every year, hoteliers have new chances to achieve success. Of course, following current Hotel Industry Trends is the best way to satisfy customers and improve sales. One of these trends involves utilizing automation tools or technology. So in 2023, we've made updates to our offered plans: a Hotel Premium Plan.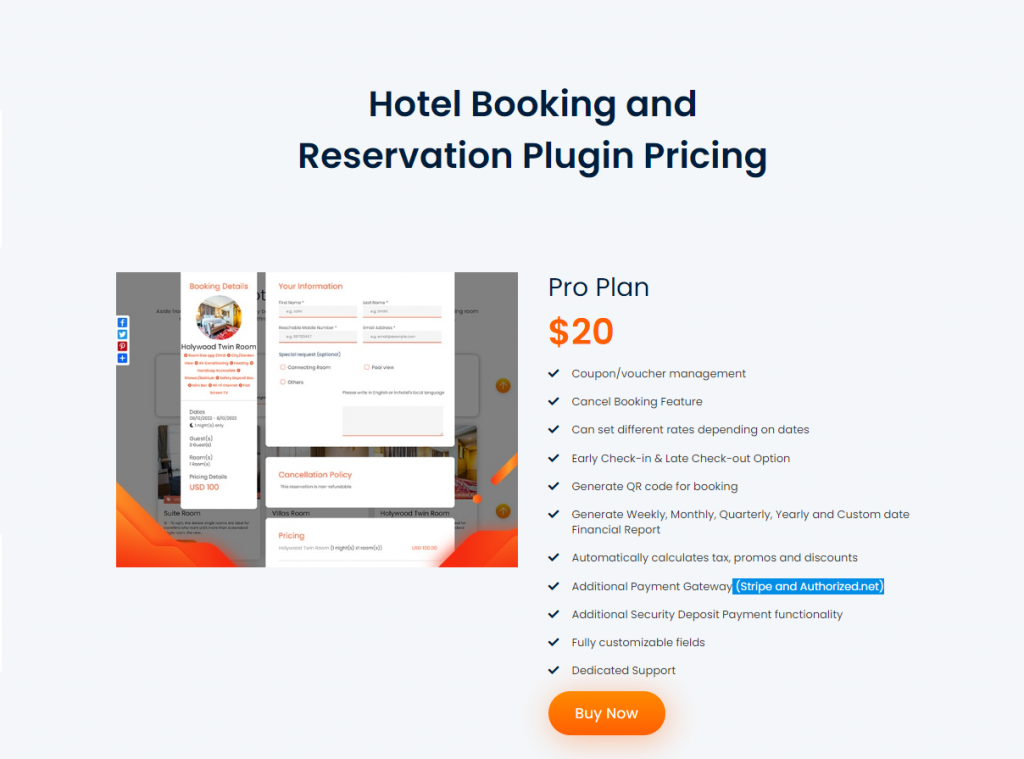 We now offer a new eaSYNC Pro plan for an annual price of $20. It offers convenient features that can assist your hotel, including the following:
Coupon/Voucher Management;
Cancel Booking Feature;
Setting Different Rates Depending on Dates;
Early Check-in & Late Check-out Option;
QR Code Generation for Bookings;
Financial Report Generation;
Automatic Tax, Promos, and Discounts Calculations;
Additional Payment Gateways (Stripe and Authorized.net);
Additional Security Deposit Payment Functionality;
Fully Customizable Fields; and
Dedicated Support.
eaSYNC offers a premium plan for Car Rental businesses with related functionalities. Now, here's an overview of the new eaSYNC Plugin Pro plan features:
What Users Can Expect from the eaSYNC Booking Premium Plan:
Coupon/Voucher Management
Exclusive or special discounts are one step to satisfying hotel guests. As a result, this feature can help hotels boost customer loyalty and revenue. Fortunately, eaSYNC is a Hotel Booking System that prioritizes your hotel's efficiency.
Of course, the Hotel Booking Pro Plan allows you to create discount coupons or vouchers. In addition, you can manage them further. The Premium Plan will enable users to customize promotions depending on the situation.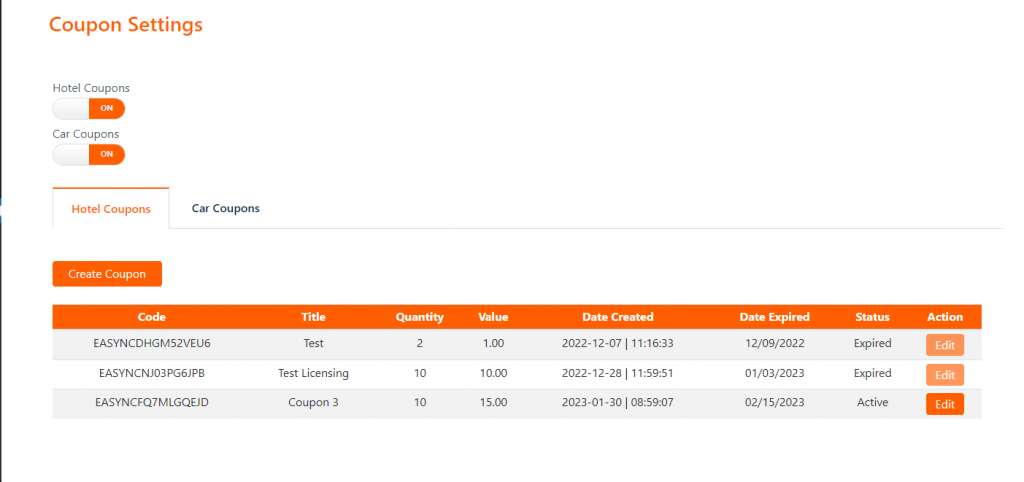 Factors affecting voucher pricing include seasons, customer loyalty programs, existing promotional campaigns, etc. A business owner should have the ability to adjust vouchers as needed.
'Cancel Booking' Feature
Before the Coronavirus pandemic, booking cancellations reached a global average of as high as 40%. Thus, customizing your customers' hotel reservations is a crucial feature of any Hotel Booking System. It allows business owners to organize reservations while saving resources.
With a Booking Cancellation feature, your hotel establishment can manage errors such as double-booking or overbooking. After all, hotel guests can make reservations through both traditional and digital channels.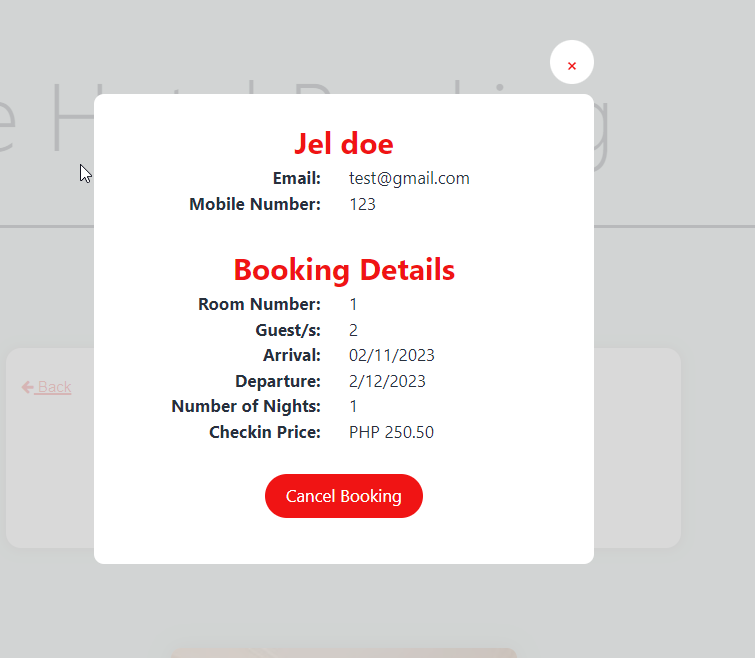 The ideal reservation management system can organize room reservations. As a result, front desk staff can monitor bookings to prevent confusion and guest dissatisfaction.
Setting Different Rates Depending on Dates
In addition to streamlining and managing guest reservations, our eaSYNC Hotel Premium Plan calculates seasonal room rates. This is crucial for customers who want to stay at your establishment on desirable dates according to particular times of the year.

Hotel owners add value to a guest's experience if they indicate hotel room rates depending on the length of their stay. Thus, guests can easily search for an available room within their budget.
Early Check-in & Late Check-out Option
eaSYNC's Premium Plan allows businesses to make the booking process more flexible. Of course, guests can choose their Check-in or -out times. But, there may be situations where guests may leave earlier or later than your regular policies dictate.
For instance, with Early Check-ins, a hotel can cater to guests who arrive at their chosen hotel early. As a result, they'll be able to kick their feet up and relax immediately. First impressions are critical to offering an excellent hotel experience.
On the other hand, for Late Check-outs, you can give customers an extended grace period before they depart. Some guests may have to extend their stay past your usual check-out times. Thus, this feature allows businesses to keep customers satisfied.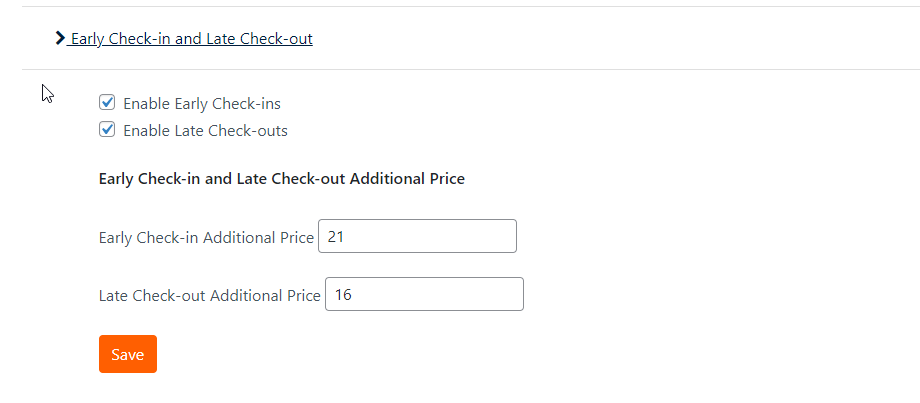 With the eaSYNC Booking Plugin, you can allow for either option. In addition, you may charge an extra fee for a particular request. Make your guests' time worthwhile with Early Check-in & Late Check-out options!
QR Code Generation for Bookings
Quick Response Codes are unique barcodes that, when scanned, will redirect you to a particular site or location. Currently, "about 70% of hotels" offer QR Codes to customers who wish to make reservations.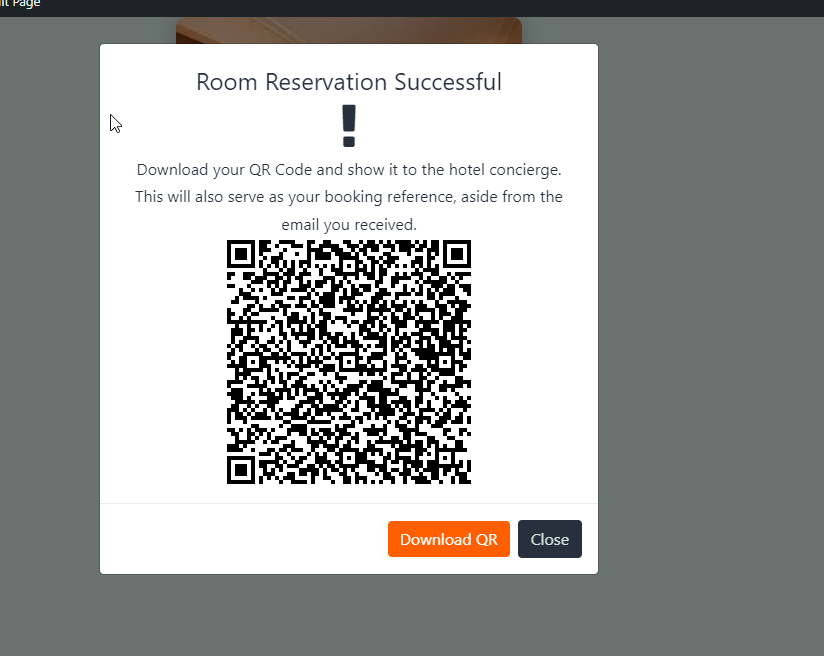 The eaSYNC Pro Plan generates QR Codes that allow customers to check their room booking details upon scanning. Many consumers nowadays use smartphones so these codes can enhance your Hotel Services.
Financial Report Generation
Data is crucial to improving business processes — from regular procedures to finance to marketing strategies. Financial Reports are vital for any business owner, including hoteliers. The insights gained from such reports allow them to make better-informed decisions.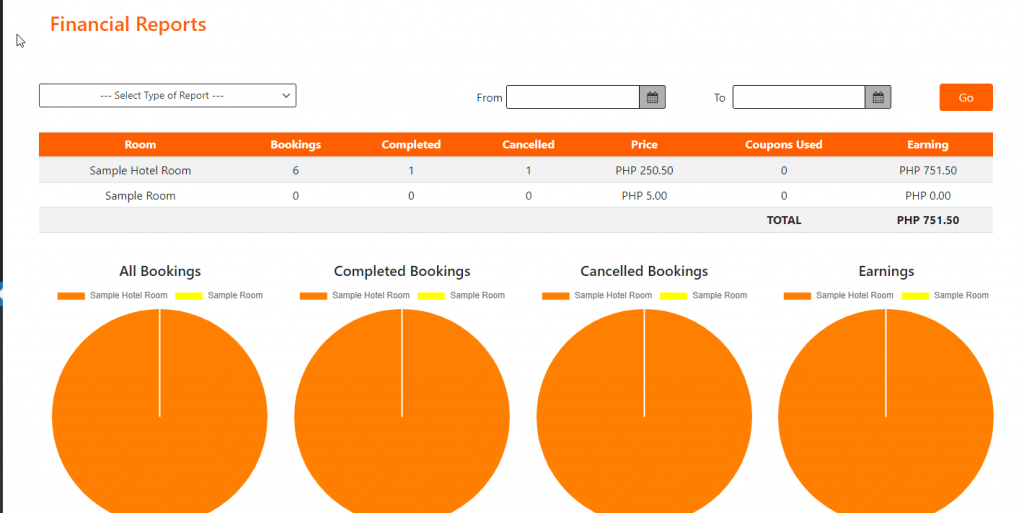 These decisions can involve the following aspects:
Payments, both pending and settled;
Sales predictions;
Budget predictions; and
Room rate management.
Thus, our Hotel Premium Plan lets hotel owners assess business performance via weekly, monthly, quarterly, and yearly Financial Reports. In addition, you can also create a report for custom dates.
Automatic Tax, Promos, and Discounts Calculations
Hotel owners might be so caught up in calculations that they don't have time to handle the more significant business decisions. Fortunately, the ideal booking system can automatically (and accurately) calculate your taxes and promotions or discounts.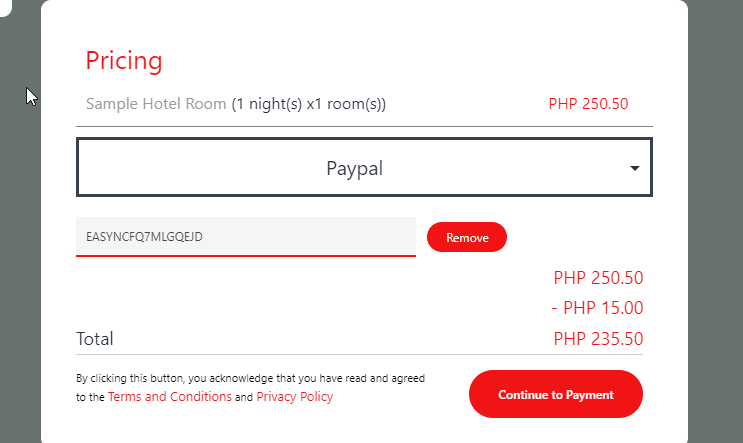 As a result, you can lessen rate calculation errors while boosting revenue. After all, accounting for the taxes is critical when setting up your room rates. Also, you can strike a better balance between an enticing discount and ensuring you make a profit.
This eaSYNC Premium Plan feature makes managing your rates much more streamlined.
Additional Payment Gateways
Hotels need a secure Reservation System on their website that accepts bookings (and online payments). Nowadays, more people prefer online payments when purchasing products or services.
So your establishment has to be equipped with online payment channels to keep up! Credit card payments are convenient for consumers when making room reservations via a hotel's website. The same is true for the online payment gateway, PayPal.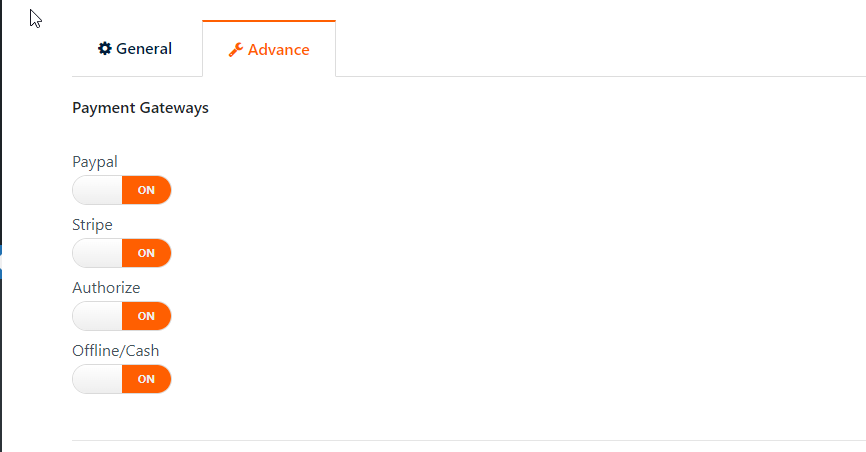 Businesses with the eaSYNC Premium Plan can now add Stripe and Authorize.net to their list of gateways for processing hotel guest payments.
Additional Security Deposit Payment Functionality
Security Deposits are necessary for safeguarding your business. So, this function enables a customer to leave a particular amount with your business until it's time for them to check out.
Hotels can use the Security Deposit to pay for any damages that occurred during your guest's stay. But, if the room is in good condition at the end of the stay, the guest can collect the amount.
The Additional Security Deposit Payments can ensure that your rooms will be left in good condition or have the fees necessary for maintenance.
Fully Customizable Fields
Customers who intend to stay at your hotel must provide their personal information. Upon booking, guests must provide information such as their full name, age, Identification Card, etc.

Hoteliers can gain as much information as they can on guests via their online booking forms. With the eaSYNC Hotel Pro package, you can customize the number of form fields. More specifically, users can hide unnecessary fields.
As a result, your establishment can add crucial information to its guest database.
Dedicated Support
Hospitality is round-the-clock work, as customers staying at your establishment may have questions or issues at any time. Likewise, software concerns don't have a set schedule.
Timely resolutions to any problem are critical to running a business and providing seamless service. Fortunately, the eaSYNC Hotel Booking Premium Plan offers dedicated 24/7 plugin support.
Bonus: Customized Plugin Features
Hotels and hospitality establishments are all about providing a seamless stay. The best way to achieve it is to utilize automation technology to make your routine processes more efficient. However, your hotel may require a particular feature to elevate your experience further.
Preserving your establishment's reputation in customers' eyes is only one of the many Hotel Booking Problems every hotelier must avoid. Fortunately, a suitable Hotel Reservation System can assist you with this.
Not only that, but adding a custom booking system feature to our reasonably-priced booking system can be a cost-effective measure. For any customization requests, eaSYNC has you covered.
And That's What to Expect from eaSYNC's Hotel Premium Plan!
Every hotel aims to satisfy guests and keep them coming back for more. So if you offer a stellar experience, they'll want to share their high opinion of your establishment. But unfortunately, hotel owners may have a lot of needs and concerns to juggle.
However, balancing all of them can result in resounding success. Thus, an automated Hotel Booking System can benefit your business.
Hotels require a guest database containing critical information about customers who reserve rooms. A Booking System can manage bookings, including checking room availability and preventing overbooking. The system can also automatically calculate rates while considering the duration of the stay, taxes, and discounts.
The ideal Reservation System can provide these convenient features and more! In addition, you can also ask for a free quote for added customization. So, improve your processes with a Hotel Booking Plugin from WordPress today.