WordPress Car Rental Plugin Feature Must-Haves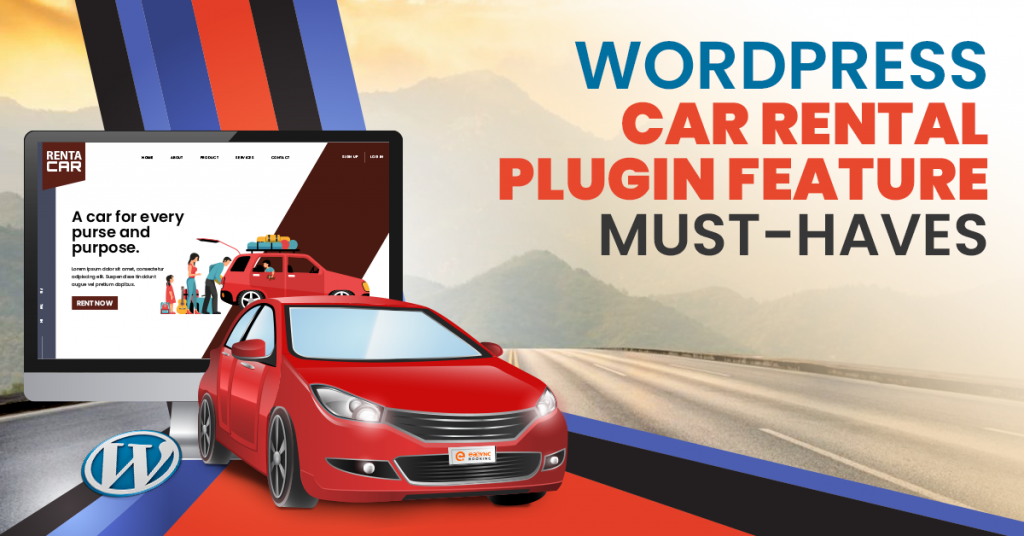 WordPress Car Rental Plugin: To The Rescue for Companies
To ensure a smooth and straightforward booking management system, companies are utilizing the WordPress car rental plugin. It provides visitors with an updated inventory of available cars and allows visitors to book reservations. However, with the increasing number of software providers out there, how do you choose the best one?
What to Look for in a WordPress Car Rental Plugin
Take note of the following features that a WordPress car rental plugin should have to guarantee the best user experience.
User-Friendly Transactions
Car booking should be hassle-free and should not cause confusion. Making a booking or canceling a schedule should be as easy as A-B-C. With a WordPress car rental plugin at your aid, you provide your customers with a one-stop software for their booking, communication, and billing needs. As such, the software includes descriptions of your car models and their respective pricing plans. You may also add special offers to your customers (if you have). With car rental software, you have access to all the reservation data in one place without the risk of duplicating or misfiling information.
Communication Interface and Chatbots
As most bookings nowadays are made online, a car rental management system should facilitate efficient communication between the driver and passenger. The customer will know the estimated time of arrival, order confirmation, and billing details through the software. Chatbots are also useful in catering to customer queries and complaints. It also allows sending of promotional emails or messages to improve brand loyalty and consumer retention. With the WordPress car rental plugin, both parties are ensured that they are on the same page.
Cloud-Integrated and Real-Time Monitoring
The goal is to keep constant track of your car's movement. With a car booking plugin from WordPress, all the information needed becomes available anytime and anywhere, as long as you can access the Internet. With a car rental plugin, users can look into details like chauffeur reports, duty registers, and bill covers. They can also know if a vehicle is in use or not. Moreover, GPS tracking helps reduce the trouble of late drivers as customers can tell where they are at any given time. It also allows drivers to locate customers quickly, guide them towards the best available route, and avoid traffic.
Digital Capabilities
Management systems with a WordPress car rental plugin should be able to incorporate the use of electronic signatures in making agreements to reduce workload and assure secure transactions. Your contract may include sections such as estimated charges, return date, and others. It can even prove helpful in case of legal issues that may arise. Moreover, it should also integrate multiple payment options for passengers who wish to pay online.
Vehicle and Driver Management
For large car rental companies, keeping track of your mane vehicles and their various drivers may prove difficult if done manually. With a car booking plugin from WordPress, you can coordinate and organize vehicles and their respective drivers efficiently. You can manage your vehicles through descriptions, options, categories, and photos to build an image gallery. You wouldn't want to send a customer the wrong car. Thankfully, the software shows them which car is next available and is in their area. Moreover, through the software, you can keep track of vehicles that are under maintenance. The software can also record your drivers' attendance, log time, and the routes they are taking.
Financial Management
Besides managing vehicles and drivers, a car rental booking system plugin from WordPress also allows you to remotely control the revenues and other billing concerns generated from your vehicles commuting in different locations at different times.
Security Features
A car rental software may include two-factor authentication and a panic button. With the two-factor authentication, you are ensured that the correct passenger is riding the car. It may consist of modern technologies such as face recognition or instant license verification. Additionally, the software may also add an emergency SOS button, which is traceable by a GPS tracker. It can be useful for both the driver and the passenger when in distress. Lastly, car rental companies should move towards installing a camera in the car to ensure their drivers and customers' security.
Damage Management
Accidents are bound to happen, no matter what business you are in. The best you can do is to guarantee that you are secure despite the damages. Ensure that you maintain an accurate and updated report of your vehicles' health before sending them out. With a car booking plugin from WordPress, you can keep data on the car's last maintenance check and the number of accidents it has been involved in. You can take pictures or videos of the cars while doing the check-in and check-out. Once the vehicle is back, you can check for fresh scratches and compare it with your existing data. These data will be helpful while filing insurance claims.

Work with the eaSYNC WordPress Car Rental Plugin
From the data you continuously acquire from a car rental booking system plugin from WordPress incorporated into your car rental management system, you can develop insights and strategies that will improve your car rental business.
With the features mentioned above integrated into your car rental software, you can transform how you deal with cars. In a few clicks, you can enhance your productivity and boost your profits with a WordPress car rental plugin at your hands. Are you ready for eaSYNC?