Restaurant Premium for eaSYNC Bookings: A Guide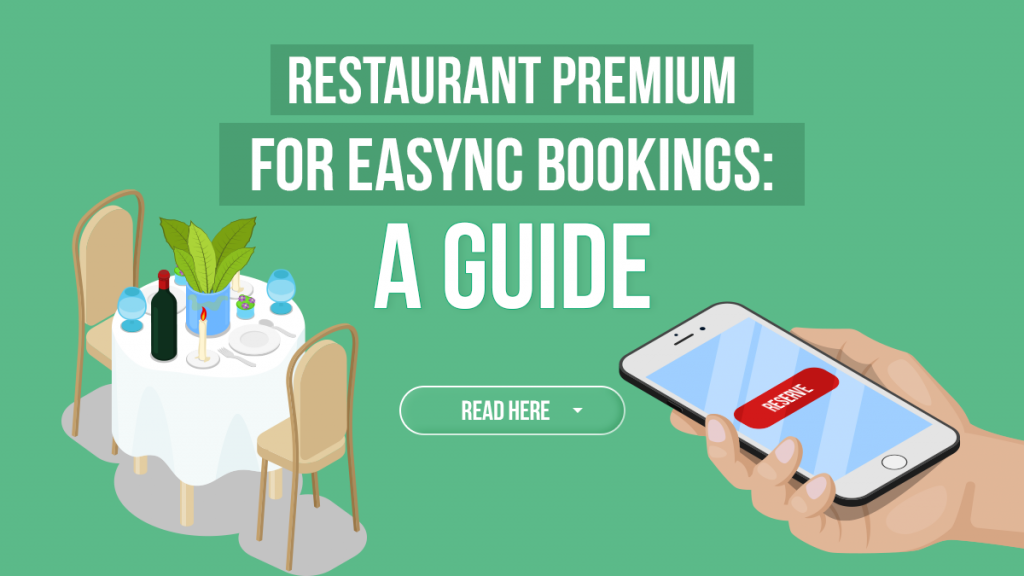 Though the restaurant industry suffered during the Coronavirus pandemic, it has since recovered. It'll continue to do so as time goes on, especially with the help of Reservation Systems. For 2023, eaSYNC intends to help restaurant owners with its new Restaurant Premium Plan!
In addition to our Premium Car Bookings and Hotel Reservations plan, eaSYNC now offers a Pro Plan for Restaurant Bookings for $20 a year. Here's a rundown of its features:
Coupon/voucher management
Cancel Booking Feature
Generate QR code for booking
Generate Weekly, Monthly, Quarterly, Yearly, and Custom date Financial Reports
Automatically calculates tax, promos, and discounts
Additional Payment Gateway (Stripe and Authorized.net)
Offline Payment Method
Manage Date Availability
Dedicated Support
What You Can Expect from the eaSYNC Restaurant Booking and Reservation Pro Plan
Coupon/Voucher Management
Having attractive discounts can increase revenue and table occupancy. So why not combine coupons or vouchers with your reservations to give diners a fantastic experience? Coupons are perfect for influencing more customers — especially new ones — to make table reservations at your restaurant. Special offers can even build customer loyalty.
So, count on the eaSYNC Restaurant Pro Plan for coupon or voucher creation and management. The plugin also lets you view all restaurant coupons and check whether they're active or expired.
Restaurant business owners can offer promotions for special events or milestones via your website. Alternatively, you can provide discount coupons via your Social Media accounts or Marketing Emails.
Booking Cancellation Feature
eaSYNC's free Restaurant Booking module allows you to create and manage table reservations. This enables you to streamline your reservation process and improve the dining experience for customers.
But, with the Restaurant Premium Plan's 'Cancel Booking' Feature, restaurant owners can boost revenue while reducing no-shows. The feature allows you to cancel bookings for whatever reason. A customer might cancel their booking ahead of the reserved date and time for personal reasons.
Also, restaurant owners can cancel bookings if their establishment is closed for a holiday or event. You can even cancel bookings made by customers confirmed to be no-show diners. After all, 20% of customers in larger cities don't make it to their table reservations.
Generate QR Code for Booking
Quick Response Codes direct you to a specific destination or webpage. They can be used for various purposes. However, for the eaSYNC Restaurant Booking plugin, restaurant guests have a unique QR Code generated upon confirming their reservation.
With the Pro Plan, you can scan your generated code and check your restaurant booking details. Guests will appreciate a convenient method to double-check their reservation details.
Generate Financial Reports
A Restaurant Reservation System can increase sales by generating financial reports. Financial reports are a critical tool for managing any business, including restaurants. As a restaurant business owner, your goal is to make a profit, so you need reports to give insights into how the restaurant is doing.
Naturally, financial reports can help you realize profits, but they can do even more than that. They can shed light on areas where your business is doing well and where it needs work. With information from your reports, you can find ways to minimize business costs and maximize profits.
With the eaSYNC Premium Plan, restaurant owners generate regular financial reports. You can create weekly, monthly, quarterly, and yearly reports. In addition, you can create financial reports for a custom period.
Automatically Calculates Taxes, Promos, and Discounts
Automation technology can help restaurants improve efficiency and increase sales. For instance, during the pandemic, the market for interactive self-ordering kiosks reached $26.63 billion. Thus, restaurant owners should use Reservation Systems to meet diners' growing demands.
However, certain systems can take this a step further and calculate table reservation fees. The Restaurant Pro plan will automatically calculate tax and discounts or promos. Thus, you won't have to worry about making the calculations yourself.
So, you can add your taxes and account for promotional offers while reducing errors. In addition to boosting your revenue, this Premium feature can free up your time for other, more vital business concerns.
Additional Payment Gateways
Customers can pay for their meals in cash when they dine at your restaurant, though many increasingly favor digital or online payments. However, when it comes to online bookings, they don't always have the opportunity to pay you in cash.
For example, over two billion consumers globally rely on mobile payments. So, they'll appreciate additional online payment gateways to make reservation deposits or downpayments.
Fortunately, eaSYNC's Restaurant Pro Plan allows diners to use Stripe, Authorize.net, and PayPal. Customers can pay a fee to reserve a table at their desired timeslot.
Offline Payment Method
Restaurant guests are drawn to convenient features and want a smooth reservation process. A vital part of this is the payments. In addition to digital payments, the eaSYNC Pro Plan allows you to process cash payments.
As a result, you can accept offline payments at your customers' convenience. Diners will appreciate various payment options for their table reservations, such as PayPal and the Stripe and Authorized.net gateways mentioned earlier. It also has the added effect of improving their opinion of your establishment.
Manage Date Availability
The eaSYNC Booking Plugin can efficiently manage restaurant reservations by organizing and streamlining them. But, restaurant owners can further manage bookings with the eaSYNC Restaurant Premium Plan. For example, overseeing the table availability on particular dates will be easy.
So, if your restaurant closes for particular holidays or special events, you can manage table availability beforehand. eaSYNC allows restaurant owners to create a schedule that suits the dates and times their tables are available for bookings.
Dedicated Support
The Booking Plugin is vital for streamlining your reservations, but restaurant owners might encounter a few difficulties occasionally. 45% of diners eat out multiple times a week, and another 20% do so once a week. Thus, restaurants must ensure their website's booking features are always functional.
After all, guests can make reservations at any time. You must ensure that your plugin is in top shape. Paid or Premium WordPress Plugins offer support services, and so does our Pro plan.
Of course, eaSYNC's support team will provide guidance and troubleshooting solutions as needed. Plugin support is vital to consistently provide diners with a smooth booking experience and avoid losing revenue.
Bonus: Customized Plugin Features
Restaurants aim to provide a filling dining experience — not just concerning food, but with the overall atmosphere. Thus, any problems with the reservation experience should be smoothed out. Automation technology can help your restaurant improve efficiency, but certain establishments might need a unique plugin feature or two.
Your establishment may need a specific plugin design or attribute to match your business niche. Consider reaching out to us at eaSYNC for a custom plugin feature!
Elevate your diners' restaurant experience with a booking system tailored to your needs. Such a system will make your regular restaurant processes that much easier.
And That's All for eaSYNC's Restaurant Premium Booking Plugin!
A WordPress Booking Plugin provides various benefits, especially for certain businesses requiring reservations or bookings. For instance, these businesses include Car Rental businesses or Hospitality establishments like hotels.
Restaurant Booking Systems are critical as they can streamline the reservation process for both business owners and diners. On top of the eaSYNC Plugin's essential features, the eaSYNC Restaurant Booking Module's Pro Plan can offer the following benefits:
Discount coupon or voucher management;
Reservation cancellation;
QR Code generation for invoices;
Financial report generation;
Tax, promos, and discounts calculation;
Added online payment gateways;
Offline payment;
Manage table availability; and
Plugin support.
Your restaurant may also need a unique plugin design or feature. The ideal WordPress Restaurant Reservation Plugin offers excellent features that improve your business at a reasonable price.