How A Booking System like eaSYNC Works for Car Rentals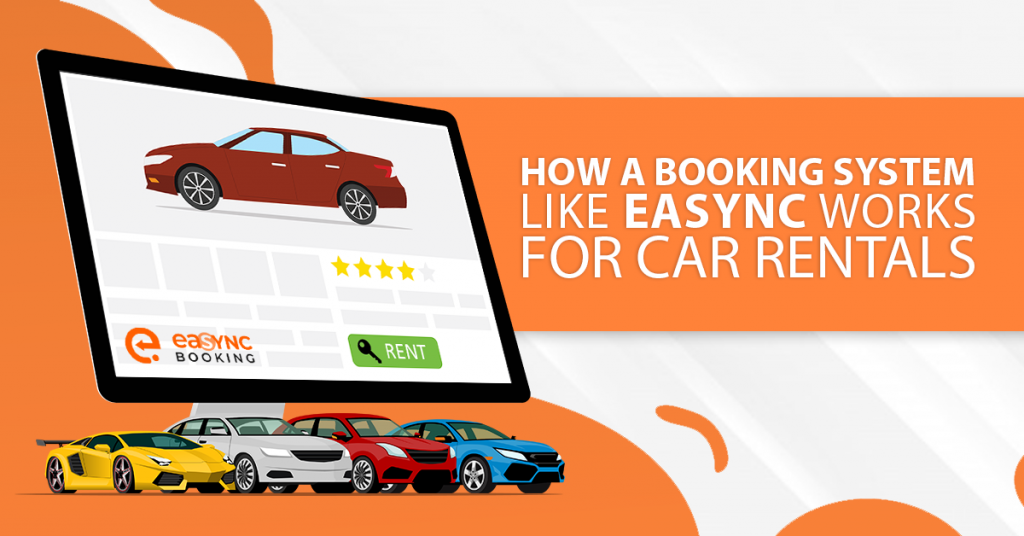 Rent, Drive, Repeat.
Not everyone owns cars, and those who do may not always prefer to use their vehicles all the time. For such people who prefer to drive themselves rather than hire a taxi, a car rental service with a great booking system is proving profitable.
Without question, if you are planning a road trip, family hangouts or a business trip to other locations or countries, renting vehicles is the best thing to do. Many travelers like you always have a high demand for renting vehicles for their purpose of casually moving from one place to another. 
Over recent years, renting online has become a demand and can be considered a business idea for most entrepreneurs. It offers a way to schedule their timings and helps travelers explore trip plans at their own pace.
Technology like a booking system ushers accessibility
The conventional approach to car rental companies has changed a great deal with the rise of the internet. Travelers simply use search engines like Google to find out where to rent cars via a booking system. Since technology provided an easy way to do it, companies must evolve to make the process of renting a vehicle even more accessible, online. 
Check out the success of Airbnb. It initially started by leasing tourists air mattresses. Also, at that time, the renting concept slowly spread internationally through a user-friendly website. 
Today, Airbnb is one of the best working platforms with a reliable booking system for accommodation, which by catching people's eyes, minds and hearts have branded them as a rental giant. Importantly, the platform provides the best host and guest service, through which they drive trust, reliability, accessibility, quick access, speed, etc. 
Likewise, the same concept may be replicated to your website by installing third-party booking systems or plugins focused on renting vehicles.
Benefits of an online booking system
Available 24/7.

Booking is accessible anytime. In other words, anybody who needs to book a car even at midnight shouldn't be an issue.

Customer service. 

Your website offers an easy booking process and setting it up with the right tools must be a priority. Considering that most travelers only see what you provide online, your presentation and customer service must be top-notch.

Cost savings.

Cost may also come as opportunity loss. With online booking added, you'll not miss any potential client visiting your site.

Simple Bookings Management.

There may be more vehicles listed, but you can set up your available fleet easily while your visitors can book them quickly.

Safe Payments.

Visitors can book vehicles and safely pay for them. Furthermore, you can add several protected payment gateways for safe and swift transactions. 

Boost Revenues.

The online booking system stores the data entered and also collects the data based on reservations and listings, then accumulates into a report. As a result, these allow entrepreneurs to evaluate their results, which also helps increase their productivity to earn more.

Lessen the Workload.

With less manual action, your staff can focus on customer service and creating an excellent experience for clients.
Plugins for WordPress are available for use
To sum up, businesses in this industry can grab the opportunity to use technology to rent out cars. In other words, online bookings provide benefits that are just too many to ignore. Besides, if you are using WordPress, car rental booking plugins like eaSYNC Booking are available for download and set up, depending on the features that you need.