Guest Satisfaction for Repeat Bookings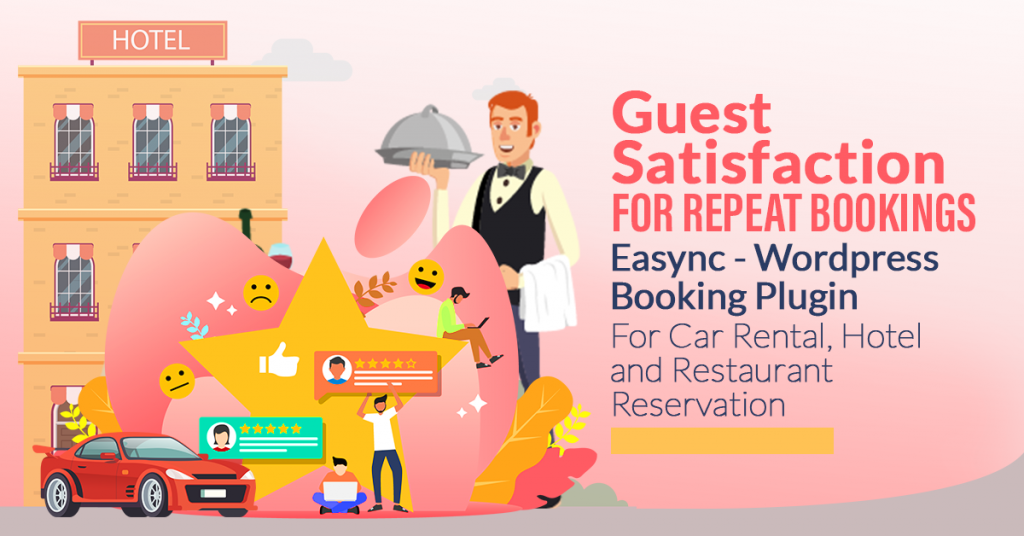 Awesome experience beyond facilities: Guest satisfaction
Even in difficult times, the hospitality industry can flourish without solely concentrating on prices. It can become an essential differentiating point through the adoption of a "customer-centered" approach focused on guest satisfaction and customer service. 
Customers and visitors recognize the hotels who place themselves at the center of their attention and make sure they have the most exceptional experience before, during, and after their stay. For instance, having a smooth online booking for a room on your hotel booking plugin on your website. Another is getting a quick table reservation at its finest restaurant.
A piece of word-of-mouth advice or a favorable review in the social media can assist safeguard your company from aggressive price tactics, enhance loyalty, and reduce your sales costs with repeat clients.
Most of us agree that customer reviews can affect how a guest makes a decision, and there is much research to help, especially in the reservation of a hotel room.  Word travels around fast, and people quickly buy what others say.
How a negative review impacts your hotel bookings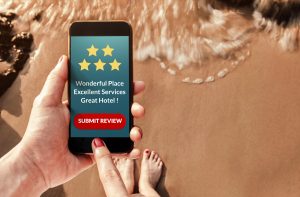 A recent TripAdvisor survey shows more than 50% of travelers will not book a hotel until they receive feedback.  Meanwhile, 83% of travelers read reviews because they think it helps them choose the right hotel.
While it may be challenging to collect feedback, it helps to identify priority areas for your property improvement. The connection between hotel reviews and prices shows that travelers are nearly four times more likely to choose accommodation with higher reviews, considering the prices are the same. Furthermore, 76% of those travelers are prepared to pay more for a hotel with higher reviews. These statistics come from recent TrustYou surveys.
In that case, building relations with your customers is a critical component of effective service delivery in the hospitality business. At this time of automation and costs, it has never been more essential to care for your guests to guarantee your customer-centered strategy and location stand out.
According to a Lithium survey, 71 percent of adults said that they are never going to use the brand again after a terrible experience.
There is always a risk that an unhappy customer can share their opinion with the masses. It's easy today to send a bad review out on social media, given that most of our guests are already Internet-savvy. 
In turn, a bad comment can impact you via a quick post on social media, review travel sites, OTA sites, etc. 
Building a client-centric delivery experience for guest satisfaction
Feedback can help you determine your priority areas for improvement.   It also allows you to address quickly any customer services issues on the spot.
Creating a customer-focused culture is also a business development opportunity that you should not overlook. Many businesses fail in providing customer experience; they have forgotten what it is like to "walk in their customers' shoes."
Viewing the activity from a customer's perspective helps spot the gaps that impact the overall customer experience. Step back and evaluate all your customers' pain points will disclose the gaps. You will need to improve if you want to offer a guest a truly unforgettable experience.
Furthermore, running a hotel and expecting all of your clients to be new isn't realistic. You need to focus on how you can develop your hotel and build loyalty among your current customer base.
Reasons why you need to focus on repeat customers for your hotel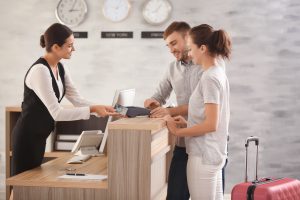 Here are just some of the reasons for focusing on repeat customers are:
1. It costs five times more to convince a new guest that your services are fantastic than retaining an old one.
2. In most cases, customer loyalty is ten times the price of a single transaction.
3. Only around 4% of its unsatisfied clients listen to a typical company. The other 96% will go away silently, and 91% will never return. Think of those guests who are unhappy and who don't tell you how many individuals they go on and talk about their poor experience.
4. Once you have recovered from an unfortunate position, it will take a lot more effort for your company and its reputation to be fully redeemed. Rebranding can be costly.
5. Most complaining guests will do come back to you again if you quickly resolve the complaint professionally and fast on the spot.
6. No matter how hard you try something, at some point, something will go wrong. Regardless, your objective must be to have a happy patron and learn how to cope with the challenging circumstances.